Mr. Lenzini's book is a must read! He has succeeded in blending a great story line with credible characters that take you on an exciting quest for love amidst suspense and "edge of your seat" scenes. I fell in love with his characters, especially Luke, a focused assassin and sensitive guy all rolled into one. I found myself reluctant to put this book down and anxious to be able to pick it back up again! Mr. Lenzini has made this first attempt at authoring a success in MY book and I so look forward to getting my hands on the sequel. Well done! Purchase
---

Editorial Review
Ingram

Author Sydney LeBlanc goes behind the walls of 18 of the most beautiful private gardens in New Mexico's capital, and also one of the city's oldest horticultural treasures--the public Bandelier Garden. Seen against the neutral background of earth-colored adobe houses, and reflecting the city's intermingled Native American, Latin, and Anglo culture, Santa Fe's gardens burst with color. 162 color illus. Purchase
---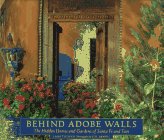 Editorial Review
Amazon.Com

Once upon a time these New Mexico towns were rough-and-tumble settlements peopled by drifters and dreamers. Sante Fe and Taos are still very much a cultural rendezvous, but far removed from their humble beginnings; Sante Fe has lately become known as the Beverly Hills of the Southwestern U.S. Among its full-time residents are the Dennises, the husband and wife author-photographer team who host this tour of their neighbors' private homes. The owners and designers weigh in with their own words about creating these eclectic sanctuaries, making it a very personal tour. Purchase
---

Editorial Review
Amazon.Com

This book comprehensively discusses the neural network models from a statistical mechanics perspective. It starts with one of the most influential developments in the theory of neural networks: Hopfield's analysis of networks with symmetric connections using the spin system approach and using the notion of an energy function from physics. Introduction to the Theory of Neural Computation uses these powerful tools to analyze neural networks as associative memory stores and solvers of optimization problems. A detailed analysis of multi-layer networks and recurrent networks follow. The book ends with chapters on unsupervised learning and a formal treatment of the relationship between statistical mechanics and neural networks. Little information is provided about applications and implementations, and the treatment of the material reflects the background of the authors as physicists. However the book is essential for a solid understanding of the computational potential of neural networks. Introduction to the Theory of Neural Computation assumes that the reader is familiar with undergraduate level mathematics, but does not have any background in physics. All of the necessary tools are introduced in the book. Purchase
---

With its abundance of cultural offerings, outdoor adventures, and fantastic shopping, northern New Mexico has something for everyone. Named one of the top three U.S. art cities, Santa Fe also boasts natural venues for the sports enthusiast, and so much more. This book includes:
A shopping guide to the Indian and Spanish markets, with tips on buying Native American pottery, jewelry, and rugs Listings of cultural events, from opera to art galleries to pueblos Sports outlets for everything from bird watching to mountain biking Complete details on Albuquerque's Balloon Fiesta
---

Linda Mason Hunter, a writer/stylist who specializes in design, provides a look at contemporary Southwest style, which goes beyond the pastel Native American design previously popular to include a mixture of Spanish, Mexican, and cowboy influences, and shows how the look has been incorporated into home decor. Recommended for large interior design collections and where there is an interest.
Purchase