In 1610, the city officially became the capital of New Mexico, and the New Mexico Territory became a state in 1912.
One of Santa Fe's most prominent features is the downtown Plaza, near the end of the legendary Santa Fe Trail, the pioneer trail starting in Missouri. For centuries people have met at this location to trade news, buy and sell goods and have community celebrations.
On the north side of the Plaza is the Palace of the Governors, built in 1610. It is the state's history museum, one of the many museums in the city. Also located downtown are the Georgia O'Keeffe Museum and the Institute of American Indian Arts Museum. Also near the Plaza are the Loretto Chapel, the Oldest House in Santa Fe, and St. Francis Cathedral, completed in 1884.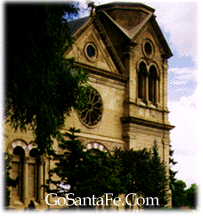 No downtown building may rise higher than the bell towers of the St. Francis Cathedral (pictured), This restriction makes the cathedral a dominant feature of the Plaza area.
More